Mailing List Management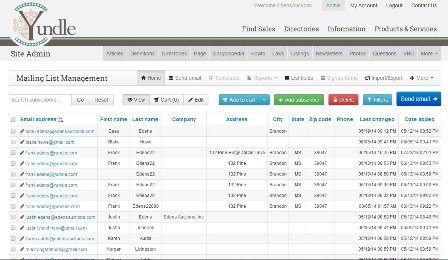 If you have ever tried to maintain a list of your customers, keep the list up to date and segregate based on interest, you know how difficult it is. Or how about when you are doing a mailing and you need to select the people you want to mail to out of many others? Well, we know the feeling.

Microsoft Excel or Access are too difficult to learn and don't do the job needed anyway.

We have been dealing with mailing lists for over 40 years and know all the pitfalls. That's why the Yundle Mailing List Management program is so important. We have taken that experience and eliminated all the pain with maintenance of your list.

PLUS, our program also allows you to send emails to your customers, so it operates not only as a management tool, but also as your customer email program.
Features:
Import and add contacts based on the fields you desire.

Manage Fields. Add, delete and name the fields you need for your list.

Update your list without worrying about creating duplicates.

Allow visitors to your site to join your mailing list.

Filter your list to only the entries you need for your mailing.

Export your filtered list in csv format.

Print labels for your filtered list.

Send email to your filtered list.

View various reports.
​
Examples:
Say you operate an auction Company and have 10000 people on your mailing list. You plan to mail a brochure to the 2000 people most likely to buy. Simply filter your list to the last 2000 who have purchased items from your auction.
If you are like most of us, you do not maintain a list of your customers. Antiques shops, malls, consignment shops, pawn shops and others fail to maintain any such list. And if they do attempt to do so, the lists are either not used or inadequate. Our Mailing List Management tool makes your life easy by giving you the tool you need to do it right.
For more information, please contact us.
Built by People who Know
Our mailing list program was built based on real life experiences of auction companies and antique dealers.
Led by a Company in business for 40 years.
---
Filters are King
Creating your own fields and using filters to select only the users on the list that you want are the primary features of our mailing list program.
---
Do it Securely Online
Forget Excel, Access or other programs. You can maintain and use your entire mailing list online.